Be A Different You with These Metal Wall Art Designs
Posted by UĞUR SARAÇ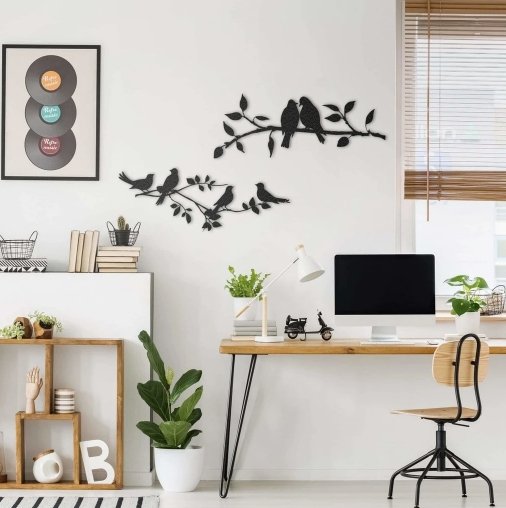 Metal wall art is the material for decoration in the 21st century. It is gaining more and more popular as many cool and creative things can be done with it. Be it delicate metal wall art spreading your aesthetic sense or large wall art to spread amusement, and there's a lot to choose from.
If you're on a hunt for some beautiful, elegant, or old-school metal wall art designs, you're at the right place. Following are a few of the universal wall art designs that can complement nearly any place.
Without wasting any time, let's jump to it!
Metal Wall Art Décor Ideas
1.    Metal Wall Clock
If you look at that one thing, every home interior includes, it is a wall clock. No matter how big or small, every house has at least one wall clock. Gone is the time when clocks were there to tell the time only. It's time to be a little different with a metal wall clock.
Additionally, you can create a combination of a wall clock with typography wall art to help you make the most out of your time.
2.    Outdoor Wall Art
You may not know, but wall art can be displayed in outdoor settings also. Outdoor wall art is not very common; hence you have a create margin to play around. For instance, you can get bird cages, sun, or beautiful flower art to create your impression on your visitors.
If you're wondering, outdoor wall art is one of the best solutions for a durable design. They have the power to resist environmental changes while leaving an evergreen impact on their surroundings.
Literary Wall Art
People who like to flaunt their literal sense integrated into art have various designs to choose from. A metal world map is a great choice here. For a moment, it would look like an ordinary wall design; however, a closer look will leave people in an aw!
This design is suitable for common areas, libraries, halls, or even bedrooms.
Flower Wall Art
Make your place blossom with flower wall art. Combining hard metal with flowers seems an impossible idea; hence it's a must for those who like to turn impossible things into a reality. The design reflects perfection, purity, and closeness with nature. Ideally, the design will create a 3D look that has its attraction.
To cover a bigger space spreading a web of flowers as large wall art is next level creative.
Typography Wall Art
Artists who want to showcase their personality, thoughts, and beliefs will find no better design than typography wall art. Your room is your personal space where you can be yourself when you lose the pace of time.
Instead of finding your reflection in a mirror, meet your thoughts published on your wall and discover yourself better.
If you're looking for any of the designs mentioned above, consider visiting Northshire. We got a beautiful range of large metal wall art, typography wall art, outdoor wall art, and much more.
Collection 2019
Sale 70% Off
Title for image