Add to Uniqueness your Home with Metal Wall Art
Posted by VOLKAN BAŞAR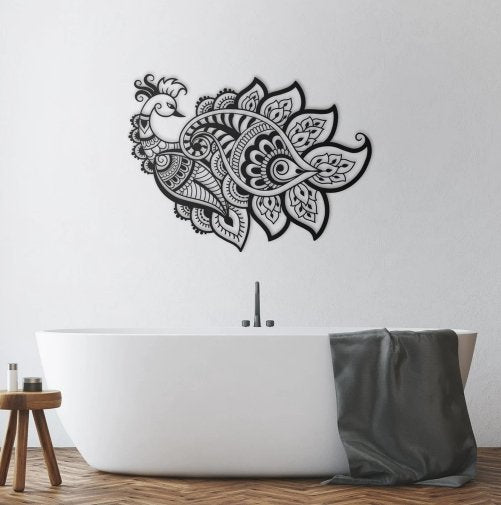 Metal Wall art comes in various colors, shapes, styles, and designs. But having a distinctive style of wall art will surely turn your place into an aesthetic one. Be it symbolic or outdoor wall art, adding metal wall art to make your interior design even better is surely a great decision to make. 
Metal Wall Art Adds Unique Accents To Your Home's Decor
·      Durable
As compared to other materials like wood and plastic, the Metal Wall Art is considered the most durable décor item to have in your home. There's very little chance of damage to it because of its strong nature, which makes it last for generations.
·      Beautiful
Thinking of adding large wall art to your home to beautify its features? Select Metal Wall Art to enhance your home's beauty. With its great finishing and colors, the crispness of metal provides a stunning look in casting a stunning appearance to your wall art design. 
·      Flexible
The flexibility trait of metal wall art doesn't mean that it can be bent easily, but by flexibility, we mean that this décor item can be rearranged however you like. For instance, having a typography wall art enables you to arrange the letters however you like. Further, the elegant look of metal is an absolute eye-catcher whether it is used as small or large wall art. 
·      Adaptable
The base materials of metal pieces make it ideal for indoor or outdoor wall art designs. However, environmental factors like rain, snow, or direct sun may affect the overall life span of Metal Wall Art pieces but are still more adaptable than other materials. Further, to maintain its durability, you can add a new clear coat every few years to make it look as fresh as purchased. 
Looking for the best designs?
Here are a few ideas for you to select:
1.    
Map of Life 
Are you trying to add an essence of happiness and tranquility to your home? Then adding the "Map of Life" will look perfect for your wall art. Created with minimal lines representing the lucid tradition, the Map of Life Metal Wall Art blends in any corner of your home.
2.    
Four Element 
If you are a nature lover and want to express it through large wall art, we have the right décor piece. Our Four Elements Metal Wall Art is designed to represent the beauty of the essential natural elements with their pure and simple lines. These four elements are believed to add a special essence of life that can make your guests fall in love with your home's interior design. It goes perfect with deep tonal paints, patterned wallpaper, and walls. 
3.    
Just Breathe 
Wouldn't it be nice to have some words describe the vibe of your environment? The "Just Breathe" typography wall art perfectly reminds you of being easy on yourself after dealing with all the hassles of life.
Whether you are searching for an indoor/typo wall art, Northshire Metal wall Art is here to provide your home with an elegant look with its aesthetic wall art collection. You can hang these eye-catching modern wall décor and make your home look beautiful and unique in its way.
Collection 2019
Sale 70% Off
Title for image