Why is Metal Wall Art a Great Choice?
Posted by UĞUR SARAÇ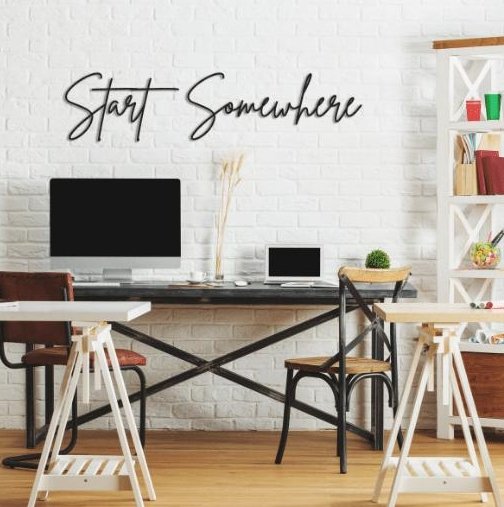 Home or office décor is a very important part of making your place livelier as it not only makes you happy but makes the place look complete. Have you run out of ideas on decorating your office room? Are you not a fan of large paintings or vases as you feel that they are old-school? No worries, as we have a great and decent idea for you.
What is Metal Wall Art?
To help you understand metal décor better, we have brought you all on details on metal wall art. Famous as a modern decoration technique, wall art is highly popular among people who have a unique and excellent taste in decoration. Wall art not only fills up your walls or the empty rooms, but it gives you positive reminders throughout the day.
Are you wondering how can metal wall art possibly give a positive reminder? Let us tell you how. For example, if you hang a typography wall art that says "never give up," you will always be reminded not to give up your goals easily. Sounds interesting, right?
Metal Wall Art Categories
1.    
Large wall art
Do you have any empty walls in your living room but can't decide how to decorate them? Are you looking for something which covers the entire wall and also looks cool? How about putting up a large wall art of a phoenix? This large wall art will not only cover the entire wall, but according to Greek mythology, it will bring good luck, harmony, peace, and prosperity.  
2.    
Outdoor wall art
 Who says that you can't decorate the outer wall of your house as well? When you hang outdoor wall art on the entrance of your house, it will increase the curb appeal and aesthetic. For outdoor wall art, we have different options that you might like including birds which represent freedom and the ability to live life on your terms. Another option also includes an aesthetic metal wall art of wildlife.
3.    
Typography wall art
Trust us when we say the typography wall art never gets old, and the best part is that it is suitable for all kinds of spaces. Believe it or not, many people opt for cute washroom typography wall art as well. The options for that include "save water shower together" and "get naked." While such metal wall art might seem a little too bold but it can be perfect for couples who have just moved in together.
In Search Of Exceptional Metal Wall Art?
Are you looking for wall art that helps you create a space as you want? Have you already looked up a few wall art ideas on Pinterest and are searching for similar designs? Well, we at Northshire have good news for you. If you want your wall art to stand out, you can visit our website today for amazing quality designs. There are multiple wall art categories that you can choose from, including motivational, nature, ethnicity, and symbols.
Collection 2019
Sale 70% Off
Title for image