Metal Wall Art With A Certain Aura of Charm and Elegance
Posted by UĞUR SARAÇ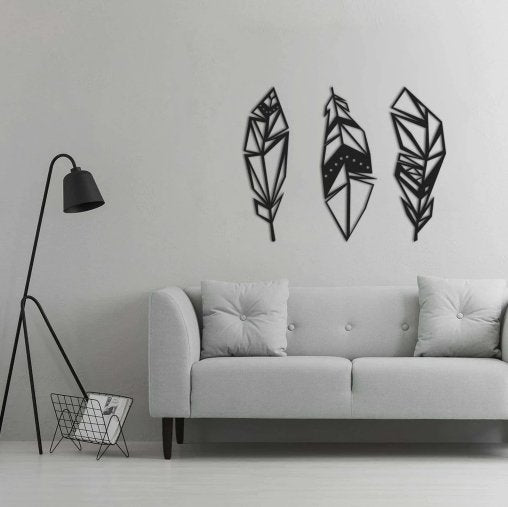 Metal wall art is all the hype these days. What is it about these new types of metal wall art that excite the masses? From various options available to unique aesthetic designs, the metal wall arts win the interior décor process. Gone are the days when people would need to spend extravagant amounts of money on décor pieces. Today, interior needs can be taken care of with a unique little typography wall art design. You can use it for outdoor metal art décor or for indoors.
What Exactly Is Metal Wall Art, And Why Is It So Popular?
To help you better comprehend metal wall art, we've provided you with all the information you need. Wall art, a popular contemporary décor method, is favored by those with a distinctive and refined sense of design. In addition to filling up your walls or empty spaces, wall art serves as a constant reminder of the good things in your life.
What if metal wall art could serve as a reminder of the good things in life? Here's how to go about it. Typographic wall art that reads "never give up" is a great method always to be reminded not to give up on your ambitions. That's quite cool.
Variety of Options in Metal Wall Art
Metal Wall Art can be found throughout the globe, and several people use it to decorate their homes and businesses. Wall art is a great way to personalize a freshly decorated bedroom or living area. Do you want to attempt something different with your home design instead of sticking with the standard items like flower vases? Metal and outdoor wall art have become popular contemporary décor items, and you'll see it wherever you go these days.
Colors, forms, styles, and patterns of wall art abound. However, if you have a particular type of wall art, your home will be transformed into an attractive one. Adding metal wall art, whether it's decorative or functional, is an excellent way to improve the look of your home's decor.
Some Famous Designs for Interior Décor
Are you looking for metal wall art that you can add to your house? Is it outdoor wall art that you need or something resembling typography wall art? Head over to Northshire. Co ton gets your fair share of options when it comes to outdoor metal wall art and indoor pieces.
Are you looking for typography metal wall art that speaks your mind? The Hakuna Matata signs would grace your living rooms perfectly. However, if you are looking for something witty, you can try out the Get Naked signs for your showers.
The famous Vapaus metal art also features origami-looking birds, or you can try out the Four Elements, which have a certain aura of authenticity and elegance to them. Get yourself the Just Breathe typography wall art if you need something that will work as outdoor wall art and suit the needs of your exercise or yoga rooms.
Collection 2019
Sale 70% Off
Title for image